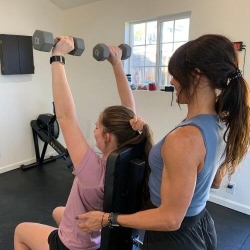 Welcome to calyx health and fitness in beautiful Cañon City, Colorado. Personal trainer Shawnda Welch aims to always put your health needs first. The driving force behind her specially designed program is the deep desire to help women meet health and fitness goals, and have more confidence in life abilities, no matter what stage of life you are in.
Whether your goal is to get leaner, stronger, more muscular, or to increase your belief in yourself, calyx health and fitness is here to help. 
What makes calyx health and fitness unique is that we tailor your program specifically for YOU. You get a top to bottom fitness and nutrition plan that is designed for the unique nature of your biomechanics. Health and fitness isn't one size fits all. That's why you will get the results you're looking for with calyx health and fitness. 
Together, we will also address any issues necessary to help you reach your goals. calyx health and fitness programs are not just about your physical well-being. What makes calyx health and fitness different is that we focus on healthy living practices as well as overall physical health.
We will work together to address sleep and stress management, and any other behaviors which are not promoting your health. 
Throughout your entire process here at calyx health and fitness, we will continue fine tuning your nutrition and training through a comprehensive and holistic approach, so you will continue getting results for long term success. 
At calyx health and fitness, we succeed only when you succeed. And we will work tirelessly to make sure we are giving you all the tools you need to put your health first.