Health and Fitness Services
calyx health and fitness


Personalized Fitness Education for Women
Personal Training
Fitness Brought To You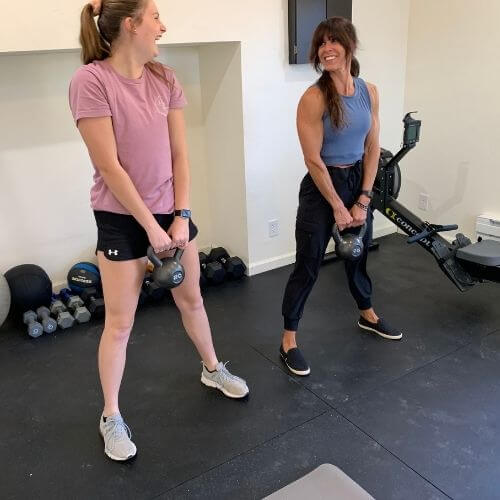 calyx health and fitness personal training can take place where you're most comfortable - in your home gym in Cañon City or your public gym in the Fremont County area. 
Why Personal Training?
While learning or improving upon good exercise technique, specifically with compound movements, hands on, personal training is the best method for cueing and troubleshooting problems. 
Over time, exercises should be rotated in and out of your program. As exercises become stalled and new exercises are introduced, a technique 'check - up' will optimize your performance and avoid potential problems. This is best accomplished with calyx health and fitness personal training.
Regularly reevaluating your technique, especially as you begin lifting closer to your one rep max, is important in order to ensure unnecessary stress on your connective tissue. Due to our own unique biomechanical differences, good technique can vary slightly per individual. Therefore, fine tuning your technique takes time. 
Another benefit to calyx health and fitness personal training is that it is great for accountability and keeping you consistent in your training. 
If you are new to resistance training, it can be overwhelming familiarizing yourself with complex equipment and exercises for the first time. calyx health and fitness personal training can relieve the worry and hassle of figuring things out on your own, and make your training sessions more enjoyable. 
calyx health and fitness personal training fees
1 Hour Session: $50
30 - Minute Session: $30
See More Services
Personal Training & Coaching
The Tools You Need To Meet Your Goals
At calyx health and fitness, we are honored to help you take control of your health and wellness. With a wide variety of services tailored to meet your needs, we know we can give you the tools to get the results you are looking for. calyx health and fitness offers personal training in Southern Colorado including Cañon City, Florence, Penrose, Brookside, Coal Creek, Coaldale, Cotopaxi, Howard, Lincoln Park, Hillside, Parkdale, Portland, Swissvale, Texas Creek and Wellsville. With our online training options, calyx health and fitness can give you the exact amount of assistance you need to stay on track to meet your fitness and nutrition goals. 
Tell Us About Your Health and Fitness Goals
Personal Training & Coaching Can Help You Get There!